Posts Tagged 'James Conner'
by lizard
Evil smelling trolls stink-up the Flathead Beacon's comment section. That is a lovely title to this post from James Conner, lamenting that the Beacon hasn't abolished anonymous racists from making their racist opinions known.
Featured is a screenshot of a comment from AndrewInterrupted: Those white guilty idiots in that Whitefish council meeting should take a bus ride to Ferguson for a little research.
Below this comment, this picture: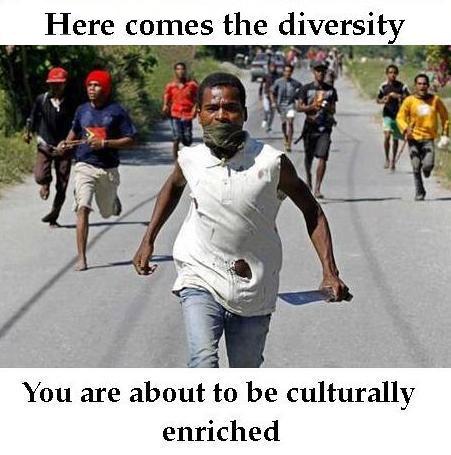 Censoring this comment does what exactly? Make obvious racists disappear? No, it just cleans up the aesthetics for someone like Conner who doesn't want to think too much about the conditions black people deal with every day in places like Ferguson.
The "Evil Troll" post was put up November 21st. Three days later, this is the title of the post: Ferguson grand jury does not indict cop, lawlessness begins. Here is the opening paragraph:
Protests, some violent, began after the grand jury investigating the death of Michael Brown decided not to indict police officer Darren Wilson for murder or any other crime. Brown's parents asked that protests be kept peaceful. So did Attorney General Eric Holder and President Barack Obama. Their words had little or no effect. The rampage began and is still on as of the time of this post.
Ah yes, the rampage of angry, vengeful black folks begins. It's too bad they don't act like those good negroes, Obama and Holder. Here's more:
A good many of the protesters who are breaking windows, setting fires, tipping over police cars, and menacing reporters, tonight may say, indeed may even believe, they're seeking justice. But they're not. They're seeking revenge. They want Darren Wilson punished regardless of whether he actually broke the law. They're taking advantage of the situation to express outrage over grievances accumulated over years, placing their faith not in law or government but in hammers and torches and destruction. And some, I suspect, don't much care whether anyone is injured or killed.
Whoops, sorry about the picture. It's not of angry black people destroying their own community like a bunch of animals. It's a picture from the pumpkin riots, where privileged young white people were just out having a little fun. From the link:
It's easy to make jokes about what has already come to be known as the Great Pumpkin Riot of 2014. Events in Keene, New Hampshire this past weekend read like an Onion article: The annual Pumpkin Festival in the sleepy college town ended with riot cops and tear gas as students and young people flipped cars and started fires in the street. Pumpkin-spiced madness! Smashing Pumpkins!

But there's good reason to take the riot seriously.

This was not a riot over pumpkins, of course. It was a riot over nothing, young people gathered in small town streets en masse and inebriated, then buoyed into further riotousness by overzealous SWAT policing. Mask Magazine rightly contextualizes the incident in the canon of nihilistic "party riots," à la the Bellingham, Washington student riots last year, which featured a young woman twerking on a cop car. But just because these riots weren't necessarily about anything — not pumpkins, not sporting events, and certainly not police shootings — is not evidence they're devoid of content or meaning.

The playful levity with which the media, if not the local police, are treating the riot seems as much to do with who was behind the destruction as it does with the seasonal theme. It was white youth who pulled down street signs and flipped over cars, and as a result they were described as "rowdy" and "boisterous." In Ferguson, where property damage and confrontations with cops were no more extreme, the rioters were deemed "violent" and "criminal." Black riots, it seems, get read as somewhat more threatening.

The difference was adeptly highlighted by Twitter comments about how the platitudes typically applied to black communities following a riot seemed absurd when applied to the Keene riot. "Why are they tearing up their own community," quipped one Twitter user. "Where are the leaders in the white community? They need to speak out #pumpkinfest," wrote another.

These were pointed riffs on the charges leveled at black communities in the wake of protests turned riotous. They highlight how blacks are forced to account, as a whole, for unruly behavior in a way that is never demanded of whites as a community. Black behavior is scrutinized and vilified. When white youth behave the same way — even without the significant imprimatur of protesting the police killing an unarmed teen — the response is so different it is risible.
There is a sense of relief from some people that the righteous hopes of those who still see a need to fight for civil rights were placed on an un-perfect victim. Mostly it's from conservative people, but James Conner has shown how even those who would prefer to expunge nasty, racist comments from online news stories are eager to use the grand jury's decision not to indict as proof Michael Brown deserved to die.
by lizard
There is something comforting for those of us who benefit from our white privilege in pointing out obvious racism, like the Whitefish "anti-racist" battle Cowgirl covered a few days ago. What I thought a bit curious was the first comment, from James Conner, who argues for a more tolerant approach to white supremacy:
Richard Spencer's views are reprehensible. He's also a law abiding resident of Whitefish. Trying to run him out of town because he holds unpopular beliefs is an act of intolerance, not love.

The situation is approaching a point where some will think it wise to erect on the city limits a sign saying "Welcome to Whitefish — but only if you're a liberal."
Before getting to Conner's views on Ferguson, I'd like readers to give some thought to what constitutes a law abiding person of any municipality. To achieve this status, does that mean one never jaywalks? How about running a red light, or speeding? There are a lot of laws on the books. At some point, even the most diligent citizen will find himself/herself in non-compliance of some law.
I bring up petty offenses because the chain of events that led to Michael Brown being shot dead in the street by officer Wilson was a petty offense. Whether or not Wilson addressed the two black youth walking in the street in a civil, professional manner is still contested. But James Conner is satisfied with the decision by the jury, comprised of 9 white people and 3 black people, as evidenced by this post, titled Ferguson: so far, no injuries or deaths, just vandalism:
President Obama called for calm. So did Attorney General Holder. The people protesting the grand jury's decision not to indict Darren Wilson paid the President and his chief law enforcement and civil rights officer no heed. They took to the streets with their matchbooks and hatchets, breaking windows, setting fires, not just in Ferguson, MO, but around the country. So far, no one has been injured or killed, but that luck probably won't hold.

There was always the possibility that the facts of the shooting in Ferguson would support the policeman's version of the events. That seems to be the case. Reports in the New York Times and elsewhere suggest that Brown, a powerful young man who stood 6-foot-four and weighed almost 300 pounds, had just robbed a convenience store, roughing up the clerk, then swaggered down the middle of the street, where, confronted by Wilson and told to move to the side of the road, he slugged Wilson through the police car's open window. Wilson, fearing great injury to himself, shot Brown in the hand. A few tens of seconds later, Brown, apparently amok, charged Wilson, who shot Brown dead.

I doubt the fact that Brown was black and Wilson white had anything to do with how the incident went down; that Brown said to himself, "I'm gonna punch-out that honky pig," or that Wilson said to himself, "Gonna kill me a nigger; self-defense." Brown's color didn't matter. He was a huge person, belligerent and enraged, who stupidly provoked a life and death confrontation with a man with a gun. No one should be surprised at the outcome.
Now I don't think James Conner is an obvious racist, but this three paragraph reaction to the rage being expressed over the non-indictment of Wilson reeks of white privilege and perpetuates a willful, ignorant denial of the racial aspects of this shooting.
Conner is echoing the depiction of Brown by Officer Wilson, who described feeling like a 5 year old holding on to Hulk Hogan when he grabbed Brown's arm. James Conner describes "a powerful young man who stood 6-foot-four and weighed almost 300 pounds" because it's that mortal fear of Brown's physical presence, combined with the allegation (disputed) that Brown "charged, apparently amok", that ultimately convinced the jury not to indict.
Not mentioned by Conner is that the other party in this fatal altercation, Officer Wilson, is also 6-foot-four, and was inside a sturdy police car with his gun when whatever physical altercation initially took place.
I can't for the life of me understand how Conner can say he doubts the fact that Brown was black and Wilson was white had anything to do with how the incident went down. Wilson's own words literally demonizes Brown, bestowing super-human strength on this 18 year old to bulk up after being shot to charge like some crazed animal.
These are Wilson's own words:
"He looked up at me and had the most aggressive face," Wilson testified. "The only way I can describe it, it looks like a demon, that's how angry he looked."
James Conner is usually capable of reasoned analysis, but his response to what's happening in Ferguson and across the nation is truly reprehensible.
Bob McCulloch, the prosecutor who chose to give his disastrous press conference Monday night, provided a perfect example of exactly what not to do if one doesn't want to exacerbate an already volatile, racially charged situation. Maybe there would have been property damage anyway, but McCulloch's prosecutorial defense of Wilson, and his calling into question certain witness accounts of what happened, guaranteed it.
Racism isn't just the obvious white supremacist stuff. It's also the privilege of a white guy in Montana saying Michael Brown being black had nothing to do with how this incident went down.
---
---
---
.Election Resources

Citizen's Info

Mountain Blogs

Political Blogs

Various & Sundry

Meta

Archives
Pages

Recent Comments

Recent Posts

Blog Stats

December 2019
S
M
T
W
T
F
S
« Oct
1
2
3
4
5
6
7
8
9
10
11
12
13
14
15
16
17
18
19
20
21
22
23
24
25
26
27
28
29
30
31

Categories