Posts Tagged 'Russia'
by William Skink
There was an interesting hearing last month in the House Foreign Affairs Committee, chaired by Ed Royce (R-Calif.) who had this to say about Putin in a recent Wall Street Journal op-ed:
"Vladimir Putin has a secret army. It's an army of thousands of 'trolls,' TV anchors and others who work day and night spreading anti-American propaganda on the Internet, airwaves and newspapers throughout Russia and the world. Mr. Putin uses these misinformation warriors to destabilize his neighbors and control parts of Ukraine. This force may be more dangerous than any military, because no artillery can stop their lies from spreading and undermining U.S. security interests in Europe."
The hearing was titled "Confronting Russia's Weaponization of Information" which I interpret to imply …because our weaponized information isn't working in Syria, Ukraine, Yemen, etc.. Perhaps the ease in which Americans are fed bullshit and believe it to be an accurate representation of what constitutes "news" has made the professional bullshitters a bit lazy in the products they create for public consumption. But never mind us because THE RUSSIANS ARE COMING!!!!
The Committee heard from three witnesses: Elizabeth Wahl, former anchor for the news agency Russia Today (RT) who gained her moment of fame by resigning on camera in March 2014; Peter Pomerantsev, Senior Fellow at the Legatum Institute (a right-wing UK think-tank); and Helle C. Dale, Senior Fellow for Public Diplomacy at The Heritage Foundation, a right-wing U.S. think-tank. [4] The Foreign Affairs Committee website contains video clips of the first two witnesses – well worth watching if you enjoy Orwellian rhetoric passionately delivered.

…

In her formal (printed) submission, Ms. Wahl referred to the Internet's "population of paranoid skeptics" and wrote: "The paranoia extends to believing that Western media is not only complicit, but instrumental in ensuring Western dominance."

Helle C. Dale warned of "a new kind of propaganda, aimed at sowing doubt about anything having to do with the U.S. and the West, and in a number of countries, unsophisticated audiences are eating it up."

Peter Pomerantsev claimed that Russia's goal is "to trash the information space with so much disinformation so that a conversation based on actual facts would become impossible." He added, "Throughout Europe conspiracy theories are on the rise and in the US trust in the media has declined. The Kremlin may not always have initiated these phenomena, but it is fanning them…Democracies are singularly ill equipped to deal with this type of warfare. For all of its military might, NATO cannot fight an information war. The openness of democracies, the very quality that is meant to make them more competitive than authoritarian models, becomes a vulnerability."
Is Western media instrumental in ensuring Western dominance? As a paranoid skeptic how can I say this delicately? Fuck yeah Western media has been instrumental in ensuring Western dominance. But after the invasion and occupation of Iraq based on lies peddled by the NYT and other publications, it might be slightly more accurate to say Western media has ensured Western dominance won't be able to stop the new, multi-polar world from emerging.
Unless we go full berserker Dr. Strangelove, which is entirely possible.
The historical context of Saigon falling on April 30th, 1975 adds another layer to the present insanity unfolding. It's been forty years since the senseless mayhem in Vietnam ended. Thinking back on that time period can be painful for lots of people. Ray McGovern revisits those tumultuous times with considerable pain because he was in the unique position of potentially leaking information that would have shown, early on, the resistance US troops were up against numbered twice as much as what the Army was saying.
Here is a lengthly excerpt detailing McGovern's interaction with a fellow CIA analyst:
Many of my Junior Officer Trainee Program colleagues at CIA came to Washington in the early Sixties inspired by President John Kennedy's Inaugural speech in which he asked us to ask ourselves what we might do for our country. (Sounds corny nowadays, I suppose; I guess I'll just have to ask you to take it on faith. It may not have been Camelot exactly, but the spirit and ambience were fresh — and good.)

Among those who found Kennedy's summons compelling was Sam Adams, a young former naval officer out of Harvard College. After the Navy, Sam tried Harvard Law School, but found it boring. Instead, he decided to go to Washington, join the CIA as an officer trainee, and do something more adventurous. He got more than his share of adventure.

Sam was one of the brightest and most dedicated among us. Quite early in his career, he acquired a very lively and important account — that of assessing Vietnamese Communist strength early in the war. He took to the task with uncommon resourcefulness and quickly proved himself the consummate analyst.

Relying largely on captured documents, buttressed by reporting from all manner of other sources, Adams concluded in 1967 that there were twice as many Communists (about 600,000) under arms in South Vietnam as the U.S. military there would admit.

Dissembling in Saigon

Visiting Saigon during 1967, Adams learned from Army analysts that their commanding general, William Westmoreland, had placed an artificial cap on the official Army count rather than risk questions regarding "progress" in the war (sound familiar?).

It was a clash of cultures; with Army intelligence analysts saluting generals following politically dictated orders, and Sam Adams aghast at the dishonesty — consequential dishonesty. From time to time I would have lunch with Sam and learn of the formidable opposition he encountered in trying to get out the truth.

Commiserating with Sam over lunch one day in late August 1967, I asked what could possibly be Gen. Westmoreland's incentive to make the enemy strength appear to be half what it actually was. Sam gave me the answer he had from the horse's mouth in Saigon.

Adams told me that in a cable dated Aug. 20, 1967, Westmoreland's deputy, Gen. Creighton Abrams, set forth the rationale for the deception. Abrams wrote that the new, higher numbers (reflecting Sam's count, which was supported by all intelligence agencies except Army intelligence, which reflected the "command position") "were in sharp contrast to the current overall strength figure of about 299,000 given to the press."

Abrams emphasized, "We have been projecting an image of success over recent months" and cautioned that if the higher figures became public, "all available caveats and explanations will not prevent the press from drawing an erroneous and gloomy conclusion."

No further proof was needed that the most senior U.S. Army commanders were lying, so that they could continue to feign "progress" in the war. Equally unfortunate, the crassness and callousness of Abrams's cable notwithstanding, it had become increasingly clear that rather than stand up for Sam, his superiors would probably acquiesce in the Army's bogus figures. Sadly, that's what they did.
When the media finally started reporting—and showing Americans images on their televisions—of what was really happening in Vietnam, it got more difficult to send off young Americans to kill and die. The response? Blame the media for losing the war in Vietnam.
Now, 40 years later, the only lesson learned appears to be better control of the message. Yet once again it's getting more difficult to sell Americans more wars. Even with a more articulate Democrat as President, and the repackaging of wars as "humanitarian interventions", it's just not going to fly with a populace that has the lived experiences of definitely NOT recovering from the Wall Street Casino blowing up 7 years ago.
Also, this pie chart: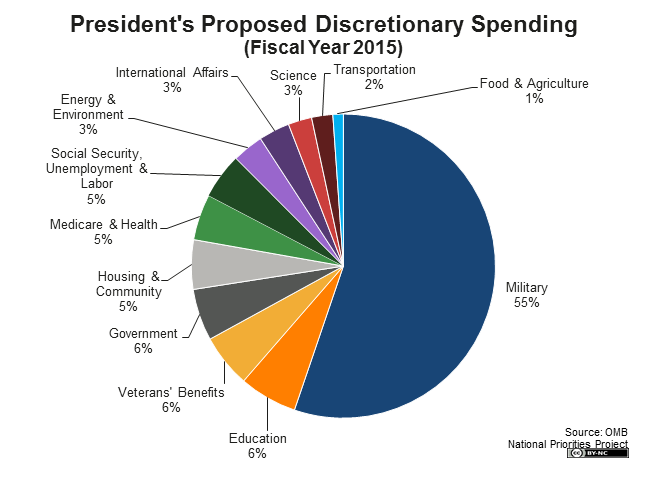 Over half the pie for the military is insane. And what has it gotten us? New havens in Iraq, Syria and Libya for jihadists, radicalized survivors of drone strikes in places like Pakistan and Yemen, and an integration of Russia and China that will shape the 21st century.
Good job, America.
by lizard
I had a request in the comments to write about oil, specifically the new world emerging from the new reality that we will supposedly never see $100 dollar barrels of oil ever again. At least that's what the Saudis are saying:
Speaking to his favorite money-honey, billionaire Saudi Prince Alwaleed bin Talal told Maria Bartiromo that the negative impact of a 50% decline in oil has been wide and deep. As USA Today reports, the prince of the Saudi royal family said that while he disagrees with the government on most aspects, he agreed with their decision on keeping production where it is, adding that "if supply stays where it is, and demand remains weak, you better believe it is gonna go down more. I'm sure we're never going to see $100 anymore… oil above $100 is artificial. It's not correct." On the theory that the US and the Saudis have agreed to keep prices low to pressure Russia, the prince exclaimed, that is "baloney and rubbish," adding that, "Saudi Arabia and Russia are in bed together here… both being hurt simultaneously."
In Montana, the inevitable next step of boom/bust is knocking on the door. Will our legislators acknowledge the new reality? Ochenski points a cautionary finger at Sweetwater, Texas, in his column on Monday:
One of the major issues being considered by the newly seated Montana Legislature is spending millions of public tax dollars on new infrastructure to meet the demands of the oil and gas boom in the Bakken formation. But as Sweetwater, Texas, just found out, not all the big promises of oil and gas booms come true.

As noted in an Associated Press article titled "City that prepared for oil boom now waits for bust," Sweetwater, Texas, "envisioned becoming a major player in the hydraulic-fracturing boom, thanks to its location atop the Cline Shale, once estimated to be the nation's largest underground petroleum formation." Thus, "expecting a huge influx of oil workers, local leaders spent tens of millions of dollars to improve the courthouse, build a new law-enforcement center and upgrade the hospital. Hotels, truck stops and housing subdivisions were to follow, all catering to truck drivers and roughnecks."

If that sounds familiar, it's not by coincidence. That's the scenario now being faced as "man camps" spring up on the Northern Plains, bringing all the attendant problems caused by a flood of in-migrants seeking high-paying oilfield jobs.

But as noted in the AP article, "those ambitions are fading fast as the plummeting price of oil causes investors to pull back, cutting off the projects that were supposed to pay for a bright new future. Now the town of 11,000 awaits layoffs and budget cuts and defers its dreams."
Spending a bunch of money on infrastructure amid the collapse of oil prices is increasingly appearing short-sighted and idiotic. Same goes for pushing through the Keystone XL pipeline. Oh, and then there's derivatives. Ochenski points that out as well:
Second, there is an enormous sum of money currently held in oil derivatives by Wall Street's largest banks and investment firms. As precious metals expert David Morgan explained in an article in Market Analysis last week, "the amount of debt that is carried by the fracking industry at large is about double what the sub-prime was in the real estate fiasco in 2008. In summary, we're looking at an explosion in potential that is greater than the sub-prime market of 2008 because, number one, oil and energy are the most important sectors out there. Number two, the derivative exposure is at least double what it was in 2008. Number three, the banking sector is really more fragile … and we have less ability to weather the storm."
While the Saudis maintain the notion that oil prices are being used as an economic weapon against Russia is baloney, the effect on Russia is undeniable:
Russia's foreign reserves have dropped to the lowest level since the Lehman crisis and are vanishing at an unsustainable rate as the country struggles to defends the rouble against capital flight.

Central bank data show that a blitz of currency intervention depleted reserves by $26bn in the two weeks to December 26, the fastest pace of erosion since the crisis in Ukraine erupted early last year.

Credit defaults swaps (CDS) measuring bankruptcy risk for Russia spiked violently on Tuesday, surging by 100 basis points to 630, before falling back slightly.

Markit says this implies a 32pc expectation of a sovereign default over the next five years, the highest since Western sanctions and crumbling oil prices combined to cripple the Russian economy.

Total reserves have fallen from $511bn to $388bn in a year. The Kremlin has already committed a third of what remains to bolster the domestic economy in 2015, greatly reducing the amount that can be used to defend the rouble.
While Americans are enjoying cheap gas prices at the pump, and the extra dollars will probably act as a sort of stimulus for increased consumer spending (unless consumers behave crazily and spend down debt instead), the overall impact will be destabilizing, especially if falling oil prices trigger another economic crash, which is looking more than plausible.
But so far Montana legislators, and the Governor, don't seem too worried:
Montana legislators will debate over the next three months how and where to spend money from the state budget. Neither party has expressed outward concern over plummeting oil prices, nor have they pulled away from plans to invest an estimated $45 million in eastern Montana communities that serve the Bakken.

Gov. Steve Bullock said that while oil prices are volatile, production is likely to continue into the future. Of the state's $2.5 billion budget, he told the Missoulian, the $121 million generated by oil and gas taxes was relatively small.

"We shouldn't be setting state policy based on the fact that oil prices have dipped a little," Bullock said. "But for those who say we don't need $300 million in the bank, some of them are the same ones who are saying state revenues are going to be short because of oil prices. If that ends up being true, then we really do need $300 million for our rainy day fund."
From that same article, though, the writing is on the wall:
For companies to continue drilling, the math often comes down to the break-even price, or what it costs to extract and ship the oil. Depending on the company, the price point for oil in the U.S. ranges from $38 to $77 a barrel, Seidenschwarz said.

The price on Friday was roughly $49 a barrel. Because of a pipeline shortage, the New York Times reported, Bakken shale producers are selling crude for roughly $34 a barrel.

What's more, Seidenschwarz said, a lot of recent high-yield bonds were issued by the nation's oil companies to finance the acquisition and expansion of projects.

"We've already seen a pull-back on bond prices out of concern over producers' ability to meet their debt obligations," he said. "That could be further exacerbated by a prolonged downturn in energy prices."
Oil prices could be one of the biggest stories of 2015. Stay tuned…
by lizard
Before the Charlie Hebdo attack, the French made two big mistakes. First, the French parliament voted to recognize Palestine as a state:
French lawmakers on Tuesday urged their government to recognize Palestine, a symbolic move that will not immediately affect France's diplomatic stance but demonstrates growing European impatience with a stalled peace process.

While most developing countries recognize Palestine as a state, most Western European countries do not, supporting the Israeli and U.S. position that an independent Palestinian state should emerge from negotiations with Israel.

European countries have grown frustrated with Israel, which since the collapse of the latest U.S.-sponsored talks in April has pressed on with building settlements in territory the Palestinians want for their state.

The motion received the backing of 339 lawmakers with 151 against.
The second mistake was calling for an end to the sanctions against Russia, which are negatively impacting the French economy:
French President Francois Hollande says he wants Western sanctions on Russia to be lifted if progress is made in talks on the Ukraine conflict this month.

He did not specify which sanctions – imposed by the EU, US and Canada – could be lifted. The sanctions began after Russia annexed Crimea in March.

Mr Hollande said Russian President Vladimir Putin "doesn't want to annex eastern Ukraine – he told me that".

Germany's vice-chancellor has warned against further sanctions on Russia.

Sigmar Gabriel – a centre-left politician like Mr Hollande – said the sanctions were aimed at making Russia negotiate to resolve the Ukraine conflict. But some "forces" in Europe and the US wanted sanctions to cripple Russia, which would "risk a conflagration".

"We want to help get the Ukraine conflict resolved, but not to push Russia onto its knees," he told Bild am Sonntag newspaper.
Now France has had its Boston moment with the attack on Charlie Hebdo. Pepe Escobar asks, cui bono? From the link:
Cui bono, then, with killing Charlie? Only those whose agenda is to demonize Islam. Not even a bunch of brainwashed fanatics would pull off the Charlie carnage to show people who accuse them of being barbarians that they are, in fact, barbarians. French intel at least has concluded that this is no underwear bomber stunt. This is a pro job. That happens to take place just a few days after France recognizes Palestinian statehood. And just a few days after General Hollande demanded the lifting of sanctions against the Russian "threat".

The Masters of the Universe who pull the real levers of the Empire of Chaos are freaking out with the systemic chaos in the racket they so far had the illusion of controlling. Make no mistake – the Empire of Chaos will do what it can to exploit the post-Charlie environment – be it blowback or false flag.

The Obama administration is already mobilizing the UN Security Council. The FBI is "helping" with the French investigation. And as an Italian analyst memorably put it, jihadis don't attack a vulture hedge fund; they attack a satirical rag. This is not religion; this is hardcore geopolitics. Reminds me of David Bowie: "This is not rock'n roll. This is suicide."
But let's talk about what's really important, NFL football. Let's hope Steve Daines can effectively intervene in the dispute between DirectTV and CBS, so Montanans can watch the Broncos lose.
We can go back to hating and killing Muslims (while our government funds, arms and trains jihadists) on Monday.
by lizard
Two of my favorite writers regularly featured at Counterpunch have articles worth checking out. While the articles are about two different topics, both could be filed under unintended consequences.
The first article, by Michael Whitney, is titled Oil Price Blowback. Here is the opening of the article:
It's hard to know which country is going to suffer the most from falling oil prices. Up to now, of course, Russia, Iran and Venezuela have taken the biggest hit, but that will probably change as time goes on. What the Obama administration should be worried about is the second-order effects that will eventually show up in terms of higher unemployment, market volatility, and wobbly bank balance sheets. That's where the real damage is going to crop up because that's where red ink and bad loans can metastasize into a full-blown financial crisis.
Later in the article Whitney explains in detail what could happen if prices remain low:
Many of the oil-drilling newcomers set up shop to take advantage of the low rates and easy money available in the bond market. Now that prices have crashed, investors are avoiding energy-related junk bonds like the plague which is making it impossible for the smaller companies to roll over their debt or attract fresh capital. When these companies start to default en masse, as they certainly will if prices don't rebound, the blowback will be felt on bank balance sheets across the country creating the possibility of another financial meltdown. (Now we ARE talking about a financial crisis.)

The basic problem is that the banks have bundled a lot of their dodgy debt into financially-engineered products like Collateralized Loan Obligations (CLOs) and Collateralized Debt Obligations (CDOs) that will inevitably fail when borrowers are no longer able to service the loans. The rot can be concealed for a while, but eventually, if prices don't recover, a significant number of these companies are going to go under which will push the perennially-undercapitalized banking system to the brink once again. That's why Washington's plan to push down oil prices (to hurt the Russian economy) might have made sense on a short-term basis (to shock Putin into submission) but as a long-term strategy, it's nuts. And what's even crazier, is that Obama has decided to double-down on the same wacky plan even though Putin hasn't given an inch. Check this out from Reuters on Monday:

"The Obama administration has opened a new front in the global battle for oil market share, effectively clearing the way for the shipment of as much as a million barrels per day of ultra-light U.S. crude to the rest of the world…

The Department of Commerce on Tuesday ended a year-long silence on a contentious, four-decade ban on oil exports, saying it had begun approving a backlog of requests to sell processed light oil abroad.

The action comes at a critical juncture for the global oil market. World prices have halved to less than $60 a barrel since the summer as top exporter Saudi Arabia, once a staunch defender of $100 oil, refused to cut production in the face of surging U.S. shale output and tempered global demand…

With global oil markets in flux, it is far from clear how much U.S. condensate will find a market overseas."
(Analysis – U.S. opening of oil export tap widens battle for global market, Reuters)
Obama is adding supply, which will further drop prices. There will be long-term consequences to this economic war against Russia. Republicans trying to get the Keystone XL pipeline passed have themselves been passed by the reality of low prices killing profits for Canadian producers (of course Republicans haven't lived in reality for awhile now).
The other article is from Dave Lindorff, and it examines the unintended consequences of the NYPD work stoppage, which raises the following question: if stopping broken windows arrests doesn't result in anarchy, why resume it? From the link:
For two weeks now, the largest police force in the nation has essentially stopped making arrests. According to a lead story in the New York Timestoday, ticket issuance by police in this city of 8.4 million is down by 90 percent. The paper reports that:

Most precincts' weekly tallies for criminal infractions — typically about 4,000 a week citywide — were close to zero.

And yet, New York continues to function normally, with people going about their business, secure on sidewalk, street, public transit and in their homes.

Could it be that the city has been wasting much of the nearly $5 billion it spends annually on its over 34,000 uniformed cops (15% of the city's budget)? Could it be that having all those cops cruising around neighborhoods harassing people — mostly, statistics show, people of color and poor people — by stopping them and frisking them, by busting them for "crimes" like public urination, smoking a joint, drinking a beer outside, selliing trinkets or "lossie" cigs, or just "looking suspicious" — has been doing nothing to reduce major crimes and violence after all?
The NYPD may want to rethink their tactics. Resuming the racist policy of stop and frisk justified by the increasingly debunked theory of broken windows policing will become more difficult with each passing day.
It will be interesting to see how these two issues develop.
by lizard
The Polish Wolf has broken months of silence to produce a pile of pro-western drivel bashing the BRICS development bank and doing a little NATO cheerleading:
While the international attention is focused on Ukraine and Gaza, something of arguably larger consequence occurred recently: the 'BRICS' (Brazil, Russia, India, China, and South Africa) launched a development bank to compete with the World Bank. This is indeed exciting – while the post-Breton Woods era has produced some impressive economic gains, especially after end of the Cold War, the World Bank is far from living up to its potential, and could surely use some competition. But as far as an antidote the that mythical demon of 'neo-liberalism', the New Development Bank doesn't have a very good chance.

The recent crisis in Ukraine has caused some contrarian-leaning liberals to embrace Russia as a counterweight to American 'neo-liberalism'; China has long been viewed in the same way. But even a cursory glance at the numbers indicate that this is far from the case. The weighted (by nominal GDP) average Gini coefficient (a method for comparing economic inequality in countries internationally) of the BRICS countries is a whopping 46.2 – by comparison, the US comes in at 36.7, and Mexico, the least equal of the OECD nations, is at 47. In terms of workers' rights, the environment, or corruption of Democracy, the other prime accusations hurled at 'neo-liberal' institutions, the BRICS nations again fail to distinguish themselves as substantially better than the OECD or leading World Bank states.

The lesson? Those who see the US as the cause and center of globally exploitative economic system ought to look twice before assuming that America's nominal 'rivals' represent a better, or even substantially different, system. While there are some truly ground-breaking programs for fighting poverty coming out of Brazil, and some successes as well in the ever-challenging realm achieving democratic governance in a highly multi-ethnic states in India and South Africa, by and large those countries competing economically with the "Washington Consensus" are running parallel to it, using largely the same methods (indeed, with a greater emphasis on state power and centralization), not innovating in some kinder, gentler system. A rival organization to the current global economic norms will not lead to a global system more responsive to inequality and the needs of the poor unless it helps motivate the World Bank/IMF system to reform itself.
First, the crisis in Ukraine is cited without any context as to who instigated the coup and subsequent slaughter and why. Preserving the petrodollar and pivoting to Eurasia isn't something PW wants to talk about because it exposes why contrarians like myself hope the multi-polar reality represented by Russia will halt the psychotic "Washington Consensus" from sparking WWIII.
Now that Obama's pivot project has been decimated by Eastern Ukrainians resolve to defend their cities and towns from the murderous coup regime in Kiev, the US has even fewer cards to play. Nuland's Nazi pals and Porky the chocolate billionaire utterly failed and now must negotiate with Russia with tail tucked between legs.
The lesson? Poking the bear has consequences.
The resolve will now be to keep pushing for NATO expansion, which is insane. Here's Hagel describing the need to get Georgia under the NATO umbrella:
U.S. Defense Secretary Chuck Hagel says "Russia's blatant aggression in Ukraine" has made the United States and Georgia determined to build stronger military ties.

Speaking on September 7 in Tbilisi after talks with Georgian Defense Minister Irakli Alasania, Hagel called NATO's September 4-5 summit in Wales "an important milestone in Georgia's efforts to join" the alliance.

He said the United States would help Georgia fulfill its goal of joining NATO, stressing that "deepening ties between NATO and Georgia are especially important given the dangerous and irresponsible actions" of Russian President Vladimir Putin.
In addition to luring Georgia into the NATO fold, the big news out of the NATO summit was the announced intention to create a Rapid Response Force:
As Ukrainian leaders warned on Monday of "a great war" with Russia, NATO leaders meeting in Wales this week were expected to endorse their most concrete response yet to increased Russian military intervention in Ukraine: establishing a rapid-reaction force capable of deploying quickly to Eastern Europe, officials of the alliance said.

The new force of some 4,000 troops, capable of moving on 48 hours' notice, will be supported with logistics and equipment pre-positioned in Eastern European countries closer to Russia, with an upgraded schedule of military exercises and deployments that are intended to make NATO's commitment of collective defense more credible and enhance its deterrence.
Pair this with the Russia Aggression Prevention Act and what we have are the conditions for the new Cold War to go hot.
In the comments of PW's idiotic post, he describes his love of NATO thusly:
NATO's value is its predictability. Mutual defense is a powerful and much needed idea; it sends a clear signal to both NATO members and those who threaten them that the most powerful military in the world is watching and assessing any potential infringement. The salutary effects are two-fold: on the one hand, it has kept NATO members safe from encroachment, ending Russia's periodic incursions into Central Europe as well as keeping peace (to an extent) between Greece and Turkey. On the other hand, it has left member countries relatively secure, to the extent that they haven't needed to build up dangerous arsenals or maintain enormous armies. Turkey's continuing status as a non-nuclear power (and likely Italy's, as well) is likely a result of the conventional security it enjoys as part of NATO. If Ukraine and Georgia become full members of NATO, we can expect threats to their sovereignty AND belligerent actions arising from those feelings of threat to decrease. Russia may be frustrated, but the actual potential for conflict will be greatly lessened.
Before the Libya intervention this statement might not seem so ridiculous, but after watching NATO exploit a no-fly zone to empower militias to overthrow Gaddafi, sane people can see the craziness of continued NATO expansion.
Also, the lesson of Libya for despotic regimes like North Korea is simple: NEVER GIVE UP THE DETERRENCE OF WEAPONS OF MASS DESTRUCTION. From the link:
Of all the lessons to draw from the ignoble end to Muammar Qaddafi's brutal regime in Libya, the one about nuclear weapons proliferation is probably not the first tutorial that comes to mind.

But you can believe it is not lost on countries that feel vulnerable, including Iran. And for the sake of global security, the international community must consider what it's like to be in their shoes.

The lesson is elementary. Eight years ago, Libya agreed to dismantle its infant nuclear program. More than five months ago, NATO began enforcing a no-fly zone in support of Libyan rebels. Would NATO have launched a bombing campaign against Libya if the unpredictable Mr. Qaddafi had possessed nuclear weapons?

Qaddafi's forceful downfall will make acquiring nuclear weapons all the more justifiable to states that feel threatened by outsiders. In turn, that will erode the vision of nonproliferation that held such promise in the post-cold-war era.
PW sees Ukraine joining NATO as a good thing. Stephen Cohen sees it as a sure path to war with Russia. Here is Cohen discussing the situation on Democracy Now. It's a must watch.
Western apologists like The Polish Wolf should be shouted down as ignorant warmongers. They are dangerously deluded about the true nature of US hegemony.
by lizard
It's been nearly 5 months since The Polish Wolf has written anything about the crisis in Ukraine. I have linked to that April post a handful of times because I would think someone who declared that The American Left has Failed on Ukraine would want stay on top of developments. I guess those developments don't bolster PW's argument. Does that explain nearly half a year of silence?
In that post PW highlights to examples of "contrarian left" failure. Here's bullet point number 1:
1. The government currently in Ukraine is not a threat to Russians living in Ukraine. Quite the opposite – Russians in Eastern Ukraine and Crimea are actively undermining the government of Ukraine (No, the status of Russian as an official regional language, by the way, has not changed. Russia Today reported that it has, and to my knowledge has failed to note that the president of Ukraine never signed into law that act).
Well, it's a full blown civil war now where thousands have been killed and injured, and the violence has greatly escalated this past month (NYT):
The United Nations said on Friday that casualties in the fighting between Ukrainian government forces and pro-Russian rebels had doubled in the past month, with an average of 36 people killed every day.

At least 1,200 people were killed and 3,250 injured in the period from July 16 to Aug. 17, according to a report released by the Office of the High Commissioner for Human Rights in Geneva. The office described the toll as "very conservative" and said it did not include the 298 passengers and crew who died when Malaysia Airlines Flight 17 was shot down over eastern Ukraine on July 17.

"The trend is clear and alarming," Ivan Simonovic, the United Nations assistant secretary general for human rights, said in Kiev, the Ukrainian capital, according to Reuters. "There is a significant increase in the death toll in the east."
But, I thought the government wasn't a threat to ethnic Russians living in Eastern Ukraine? I guess it's all Russia's fault. And for interventionists who once used alleged government airstrikes against civilians to justify intervention in Libya, the same playing out in Ukraine gets no attention from those harboring a dangerous hypocrisy.
Let's now examine the evidence of leftist failure with PW's bullet point number 2:
2. The government is not dominated by neo-fascists, at least, not yet. Svoboda and Pravdiy Sektor are both still extreme minority parties, and the armed right wing is under heavy police pressure by the Ukrainian government. Indeed, the only party that has anything to gain from Pravdiy Sektor's gaining power, and the only party acting to make that more likely, is Russia. Both Svoboda and Pravdiy Sektor have loudly opposed admission to the EU or the involvement of the IMF in Ukraine (interestingly, the exact same position toward Ukraine advocated by our local 'progressive' blogs), making it seem highly unlikely that they will continue to have Euro-American backing. Hard core nationalism in a multi-ethnic state like Ukraine can only lead to instability, the exact outcome Russia desires, and it can only be strengthened by the constant threat (and fact) of Russian intervention.
The reason I keep on going back to this post is because every time I re-read it, it appears more surreal. The coup government in Kiev continue to use neo-Nazis against Eastern Ukrainians because they actually fight. Yet somehow PW, back in April, was trying to twist their involvement as benefiting Russia—I guess because their undeniable role makes for a difficult PR problem for pro-interventionist like PW. Here's Parry from Consortium News writing last month about Ignoring Ukrainian Neo-Nazi Storm Troopers:
The U.S.-backed Ukrainian government is knowingly sending neo-Nazi paramilitaries into eastern Ukrainian neighborhoods to attack ethnic Russians who are regarded by some of these storm troopers as "Untermenschen" or subhuman, according to Western press reports.

Recently, one eastern Ukrainian town, Marinka, fell to Ukraine's Azov battalion as it waved the Wolfsangel flag, a symbol used by Adolf Hitler's SS divisions in World War II. The Azov paramilitaries also attacked Donetsk, one of the remaining strongholds of ethnic Russians opposed to the Kiev regime that overthrew elected President Viktor Yanukovych last February.

Yet, despite this extraordinary reality – modern-day Nazi storm troopers slaughtering Slavic people in eastern Ukraine – the Obama administration continues to concentrate its criticism on Russia for sending a convoy of humanitarian supplies to the embattled region. Suddenly, the administration's rhetoric about a "responsibility to protect" civilians has gone silent.
Like I said up thread, paramilitaries like this Azov battalion are willing to fight, which is not something that can be said for everyone tasked with killing their fellow countrymen. Here's a post from b at Moon of Alabama describing heavy losses from the coup government in Kiev:
Throughout August the Ukrainian president and cabinet, likely following U.S. "advisers", pushed their army into a big attack on the insurgency held south east areas of the country. But the attack of bad equipped, half trained units ran into problems. Some of them reached their attack targets only to find themselves cut off from any resupply. Without ammunition, gas and food they were locked into place and easy targets for the insurgents artillery.

The attack was stretched too far. The "culmination point in the attack" Clausewitz wrote about was reached and crossed. The negative effects of the attack on its own troops became bigger then the positive effects and the government in Kiev, not recognizing the real situation, still pressed on. It now lost the initiative. The parts of the Ukrainian army not surrounded and caught up surrounded in "cauldrons" retreated to be reorganized.

Some of the "volunteer" territorial battalions are simply going home. There is even a revolt against the defense ministry.
Read the whole post for full context. b has been fantastic in his coverage.
It would be nice if The Polish Wolf shared the perspective of the Ukrainians he's in contact with. Are they happy going broke waging a civil war against those who would have a more federalized, autonomous position within the country? Will the paltry IMF bailout go to fund a continued military offensive? Who will fight if there are reports of soldiers refusing to fight? The Neo-Nazi groups? Oh, and winter is coming. Is Ukraine prepared?
So far Russia has avoided fully taking the bait. Even the Malaysian shoot down wasn't enough, and now that bizarre investigation has almost all countries involved reportedly (Global Research, for what it's worth) signing a non-disclosure agreement:
In the framework of the 4-country agreement signed on 8 August between Ukraine, the Netherlands, Belgium and Australia, information on the progress and results of the investigation of the disaster will remain classified.

This was confirmed at a briefing in Kiev under the auspices of the office of the Prosecutor General Yuri Boychenko. In his words, the results of the investigation will be published once completed only if a consensus agreement of all parties that have signed the agreement prevails. (original emphasis in bold)
Hmmm, that's a bit odd. Whatever could be the reason for imposing that kind of agreement? And why didn't Malaysia sign on?
75 years ago today, on September 1st, Hitler invaded Poland, triggering World War II. It is total insanity that 75 five years later an American President is trying his damnedest to start World War III.
---
---
---
.Election Resources

Citizen's Info

Mountain Blogs

Political Blogs

Various & Sundry

Meta

Archives
Pages

Recent Comments

Recent Posts

Blog Stats

Join 2,735 other followers

August 2022
S
M
T
W
T
F
S
1
2
3
4
5
6
7
8
9
10
11
12
13
14
15
16
17
18
19
20
21
22
23
24
25
26
27
28
29
30
31

Categories